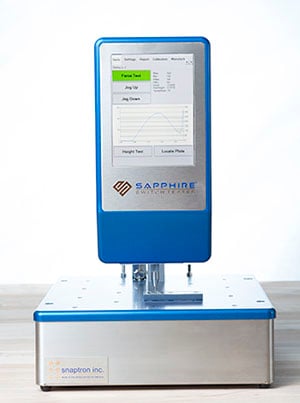 The Sapphire switch force displacement test station is designed for accurate, repeatable force and displacement measurements of various types of tactile switches and switch assemblies. The Sapphire is a stand alone unit that tests and displays precise measurement data on an LCD touch screen display. Full measurement reports can be uploaded to your network or a USB drive.
The Sapphire switch force tester is used to test metal domes, poly domes, membrane switches, and most other switches. The force test station follows ASTM standard F2592. Tests include trip force, return force, standing free height, displacement (travel), tactile ratio, tactile activation slope, switch resistance, and other ASTM measurements. It can detect two separate electrical contacts and it can be used to characterize resistive touch screens. The Sapphire is an invaluable testing tool to ensure force-displacement compliance for your quality control department.

In stand alone operation the user can get test data and reports directly from the LCD screen. In-depth reports may also be generated in Excel via your company's network. The Sapphire also has two USB ports that can save reports when a drive is detected.
Lease Today ➔
Benefits include:
Measures trip force, return force, free height, displacement, tactile activation slope, and resistance
Ability to specify Pass/Fail parameters
Tests a variety of mechanical switches and switch assemblies, and can be used to characterize resistive touch screens
Follows ASTM standard F2592
Access reports through your network, or via USB flash drive
Intuitive touch screen display for easy operation and results
Two resistance circuits to measure multiple electrical contacts
Compact design, portable
Adjustable test head for a wide range of product heights
Custom specifications available
Non-Tactile test mode allows for testing and creating a force-displacement curve for switches or other objects that do not have a tactile inflection
Process Data box allows for logging of all ASTM values for a series of tests
ASTM values include Fmax, Tfmax, Fmin, Tfmin, Frmax, Tfrmax, Frmin, Tfrmin, Travel, Free Height, Tactile Ratio, Fc1, Tc1, Fb1, Tb1, Fc2, Tc2, Fb2, Tb2, Ftease, Ttease, Frtease, Trtease, Ffactor, Tfactor, Frfactor, Trfactor, TAS, TRS, and Fend
Raw Curve Data option will generate a report containing force vs. position data for each force test conducted
Lease Program available
Options
Specifications
System Components
Standard Sapphire
®
test stations can be modified to meet your specific needs. For more information on custom modifications, contact Snaptron at 970.686.5682. In addition to the test unit, Snaptron can provide the following:
Custom 20lb load cell (10lb standard)
Neck height spacers (to increase throat height)
Actuator tip kit (Includes actuator tips in 0.10", 0.15", 0.20", and 0.25" sizes)
Custom testing platforms
Calibration Kit
Supply Voltages for Resistance (5V standard, optional 12V or 24V)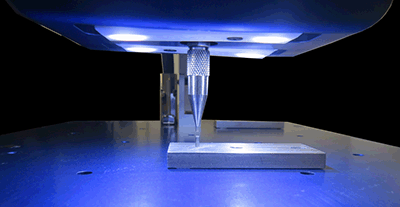 Contact Snaptron for more information.
Measurement units: Force (grams, newtons, ounces), Travel (inches, mm)
Test unit – 13"H x 9"W x 12.5"D (330mmH x 229mmW x 318mmD)
Test unit weight – 18 lbs.
Throat dimensions: Standard height = 5.4" (137mm)
Standard depth = 6" (152mm)
Test speed: 0.050" (1.27mm) per second
Total tip travel: Up to 1.2" (30mm)
Power requirements: 100-240 VAC, 50-60 Hz, 1.4 A
Displacement (travel)
Range: Displacement of 0 – 0.2" (5mm)
Resolution: +/- 0.0001" (0.002mm)
Absolute accuracy: +/- 0.0010" (0.025mm)
Repeatability: +/- 0.0005" (0.013mm)
Force
Range: 0-3000g (30N, 106oz)
Resolution: 1g (0.01N, 0.03oz)
Absolute accuracy: +/- 5g, (+/- 0.05N, 0.20oz)
Repeatability: +/- 3g, (+/- 0.03N, 0.10oz)
Tested Parameters
Force Measurements
Fmax = trip force
Fmin = minimum force after Fmax
Fc = force at contact*
Fb = force at break*
Frmin = minimum force on return
Frmax = maximum force on return
Tactile ratio
Tactile activation slope
Travel Measurements
Tfmax = travel to Fmax
Tfmin = travel to Fmin
Tc = travel to contact*
Tb = travel to break*
Trmin = travel to Frmin
Trmax = Travel to Frmax
Tend = Travel at end of test
Resistance measurements
Rend = Resistance at end of test * The SAPPHIRE has the ability to measure the force and travel of two separate electrical contacts (Fc, Fb, Tc, Tb) of a dual-action tactile switch.
Actuator tip (0.050") (1.27mm) diameter flat bottom
Resistance test cables (2)
Travel case
Operator's manual