Discover the efficiency of our Standard Peel-N-Place™ Metal Dome Switch Arrays, which come with a square piece of pressure-sensitive adhesive tape. This pressure-sensitive adhesive tape is meticulously applied over the metal dome switches and affixed to a non-stick carrier material. To complete the process, the metal dome switch arrays are carefully peeled off the carrier (also referred to as a release liner) and securely positioned onto printed circuit boards, flex circuits, or membranes.
Our metal dome switch arrays are available in a variety of styles, including F-Series, GX-Series, U-Series, P-Series, BL-Series, or M-Series. These standard metal dome switch arrays are commonly mounted on single-sided or double-sided printed circuit boards, flex circuits, and membranes manually or with automated placement equipment.
Our dedicated team is ready to assist you with your specific requirements. Rest assured, all dome arrays are expertly manufactured to your precise specifications at our state-of-the-art facility located in Windsor, Colorado. For information on other dome styles in the standard PNP format, please don't hesitate to contact us directly.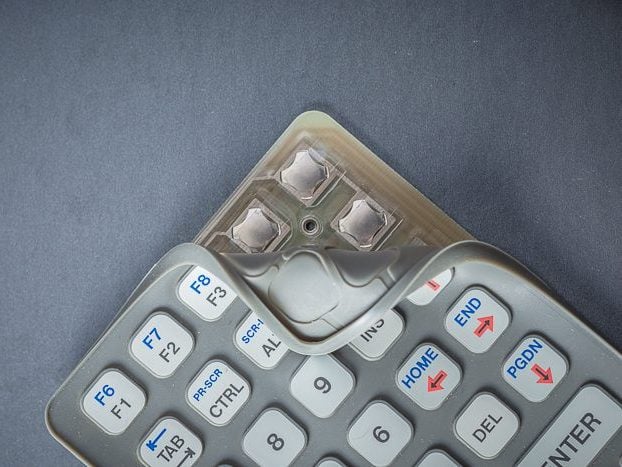 Standard Dome Arrays
Explore a range of standard metal dome arrays featuring various styles, from four-legged to round domes, and some offering backlighting choices. Find your ideal dome style or discover our custom options.
0.375″ Sq (9.53mm)
0.375″ Sq (9.53mm)
0.375″ Sq (9.53mm)
0.500″ Sq (12.70mm)
0.562″ Sq (14.27mm)
0.750″ Sq (19.05mm)
0.850″ Sq (21.59mm)
1.180″ Sq (29.97mm)
PNP-05
5mm
Dome Dia.
30/Sheet
PNP-06
6mm
Dome Dia.
30/Sheet
PNP-07
7mm
Dome Dia.
30/Sheet
PNP-08
8.5mm
Dome Dia.
30/Sheet
PNP-10
10mm
Dome Dia.
30/Sheet
PNP-12
12mm
Dome Dia.
20/Sheet
PNP-14
14mm
Dome Dia.
15/Sheet
PNP-20
20mm
Dome Dia.
6/Sheet
Part Number Description
PNP-XX (ZZZZZZ)
X=Dome diameter in inches
Z=Standard F-Series or U-Series dome part number
Ex: PNP-08 (F08400)
0.316″ Sq (8mm)
0.375″ Sq (9.5mm)
0.375″ Sq (9.5mm)
0.500″ Sq (12.7mm)
0.750″ Sq (19.1mm)
0.750″ Sq (19.1mm)
0.850″ Sq (21.6mm)
PNP-15
3.96mm (0.156″)
Dia. Dome
30/Sheet
PNP-22
5.59mm
(0.220″)
Dia. Dome
30/Sheet
PNP-27
6.86mm
(0.270″)
Dia. Dome
30/Sheet
PNP-35
8.89mm
(0.350″)
Dia. Dome
30/Sheet
PNP-42
10.80mm
(0.425″)
Dia. Dome
20/Sheet
PNP-50
12.7mm
(0.500″)
Dia. Dome
20/Sheet
PNP-62
15.88mm
(0.625″)
Dia. Dome
20/Sheet
Part Number Description
PNP-XX (ZZZZZZ)
X=Dome diameter in mm
Z=Standard P-Series or M-Series dome part number
Ex: PNP-27 (P27300)
0.500″ Sq (12.7mm)
0.500″ Sq (12.7mm)
0.750″ Sq (19mm)
0.850″ Sq (21.6mm)
0.500″ Sq
(12.70mm)
0.562″ Sq
(14.27mm)
0.750″ Sq
(19.05mm)
0.750″ Sq
(19.05mm)
0.850″ Sq
(21.59mm)
PNP-08BL
8.5mm
Dia. Dome
30/Sheet
PNP-10BL
10mm
Dia. Dome
30/Sheet
PNP-12BL
12mm
Dia. Dome
20/Sheet
PNP-14BL
14mm
Dia. Dome
15/Sheet
PNP-08GXBL 8.5mm
Dia. Dome
30/Sheet
PNP-10GXBL 10mm
Dia. Dome
30/Sheet
PNP-11GXBL 11mm
Dia. Dome
20/Sheet
PNP-12GXBL 12mm
Dia. Dome
20/Sheet
PNP-14GXBL 14mm
Dia. Dome
15/Sheet
Part Number Description
PNP-XXBL (ZZZZZZ)
X=Dome diameter in mm
Z=BL Series part number
Ex: PNP-08BL (BL08400)