Speed Up Production and Lower Cost with the SureShot Metal Dome Placement Robot
The SureShot™ is a high-speed automated system for the placement of metal domes. Its patented design dispenses metal domes from a cartridge, which is inserted into the Arrow™ placement head. The SureShot™ places a single dome on a target and then moves directly to the next target without having to reload. It can also dispense predetermined multiples for stacking domes in specified positions.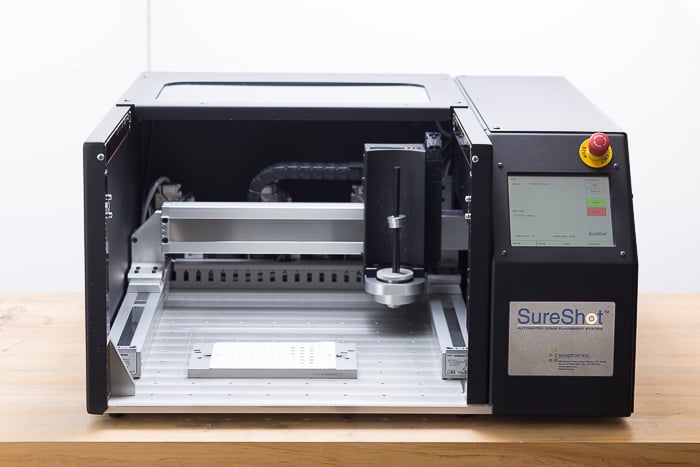 The SureShot is designed to place tactile metal domes on printed circuit boards, membrane switches, or flex circuits. Its compact tabletop design takes up minimal space. Four SureShot model sizes are available:
| Model | Placement Range | Footprint | Available for Lease (Y/N) |
| --- | --- | --- | --- |
| SureShot 300 | 300 x 300mm | 28" x 28" x 15" | N |
| SureShot 400 | 400 x 400mm | 32″ x 32″ x 14″ | Y |
| SureShot 500 | 500 x 500mm | 36″ x 36″ x 15″ | N |
| SureShot 650 | 650 x 750mm | 41" x 46" x 22" | N |
Features
Portable
Compact, tabletop design
Automated placement
Built-in color touchscreen interface
Ethernet connectivity
Benefits
Fast, accurate production
No double doming
Places domes feet-down or feet-up
Over 10,000 domes per hour
360 degrees dome rotation
How it Works
The SureShot comes complete with easy-to-use software which can be loaded onto any personal computer. Coordinates for a specific project are programmed and uploaded to the SureShot unit. The operator simply chooses the project name from the built-in touchscreen monitor and initiates the build. The substrate is placed onto a 15.75" by 15.75" loading area which is accessible via a pull-out tray. After loading is finished, the completed work is removed, and a new substrate is installed to continue production. The SureShot Automated Placement machine comes complete with one Arrow dispensing head (8.5mm, 10mm, or 12mm), user software, and a user's manual. Pre-loaded cartridges are sold separately.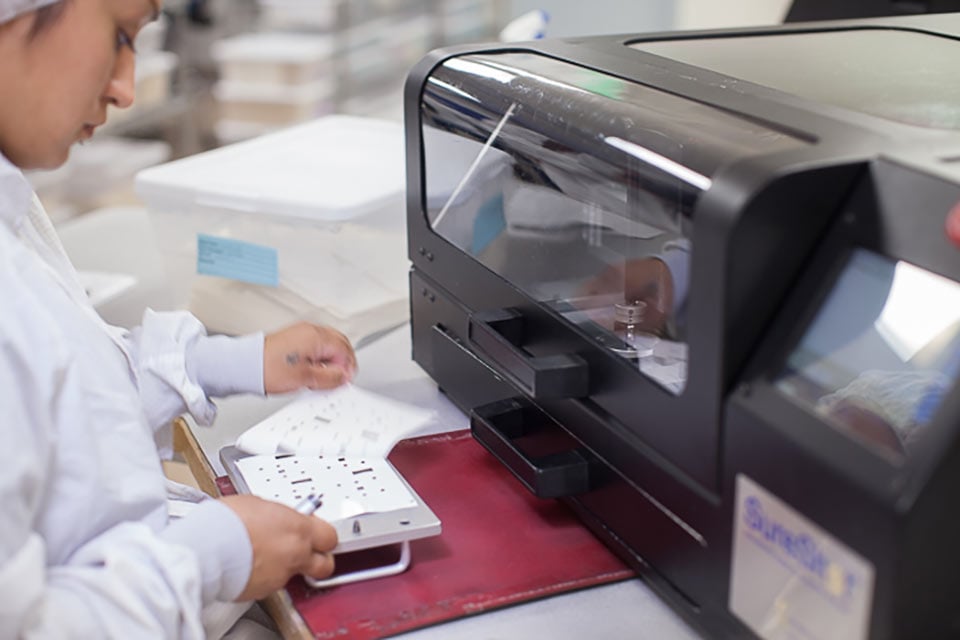 Still unsure if the SureShot is the right automation solution for your switch assembly? Learn more about the benefits of leasing a SureShot and how to get started.
Accessories
Specs
Cartridge Specs
Demo Video
Recycle
Feature Article
Arrow™ Dispensing Heads

The SureShotTM comes standard with one ArrowTM head of your choice. The ArrowTM dispensing heads come in various sizes that allow you to dispense different sizes of metal domes.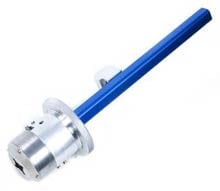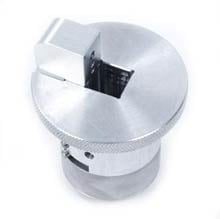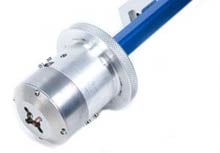 | Model Number | Dispenses |
| --- | --- |
| A4060-220 | 6mm Domes |
| A4070-260 | 7mm Domes |
| A4085-310 | 8.5mm Domes |
| A4100-365 | 10mm Domes |
| A4120-450 | 12mm Domes |
| A4140-525 | 14mm Domes |
Size:
SureShot 400 (32" x 32" x 14" footprint)
SureShot 500 (36" x 36" x 15" footprint)
SureShot 600 (40" x 40" x 15" footprint)
Placement Range:
15.75" x 15.75" (400mm x 400mm)
19.69" x 19.68" (500mm x 500mm)
23.62" x 23.62" (600mm x 600mm)
Weight:
95 lbs. (SureShot 400)
Electrical:
115V AC; 50/60Hz; 10A
Accuracy:
+/-0.005" (0.13mm)
Vertical Stroke:
1.3" (35 mm)
Placement Rate:
Over 10k domes per hour
Dome Rotation:
360 degrees
Software:
Windows based control software
User Interface:
Touch screen with Windows XP®*
Connectivity:
Ethernet
Alignment:
Optical fiducial sensing
Includes:
SureShot™ Placement Machine Software
One Arrow™ dispensing head (8.5mm; 10mm; 12mm)**
Alignment Bracket
User Manual

* — Windows XP® is a registered trademark of the Microsoft Corporation
** — Information about additional Arrow™ dispensing heads can be found on our options page
* Compatible with F-Series, U-Series, and BL-Series domes
Snaptron 4-leg domes can be packaged in cartridges for use with the SureShot dome placement machine and the Dart dome placement pen. Cartridges are easily loaded directly into the SureShot Arrow placement head or the Dart pen head for fast and accurate placement.
Depending on the size of the dome, cartridges are filled with 1,000 to 1,500 domes per cartridge. Custom quantities per cartridge can also be requested.
| | |
| --- | --- |
| 6mm domes in Cartridges | 1,500 domes per cartridge |
| 7mm domes in Cartridges | 1,500 domes per cartridge |
| 8.5mm domes in Cartridges | 1,500 domes per cartridge |
| 10mm domes in Cartridges | 1,250 domes per cartridge |
| 12mm domes in Cartridges | 1,250 domes per cartridge |
| 14mm domes in Cartridges | 1,000 domes per cartridge |
The following video contains real time footage of the SureShot dome placement machine placing domes into spacer pockets.
Snaptron Cartridge Recycling Program
For those customers that utilize the Dart and SureShot placement technologies, Snaptron invites you to join us in our dome cartridge recycling program. This program is a result of customer inquiries and Snaptron's ongoing commitment to the efficient use of materials and supplies. As part of our commitment, Snaptron is offering free shipping for the empty cartridges. To be included in the recycling program (receive return shipping labels with your next order), contact a Snaptron sales representative at 970-686-5682.
Automated Metal Dome Placement Machine

Innovative design concepts allowed Snaptron to incorporate a new delivery method with an upgraded motion system for faster, more efficient operation of a laborious job
Terry Persun, Contributing Writer — Design News, April 9, 2007 — View Article Online
Based on specific customer feedback, Snaptron Inc., of Windsor, CO, decided to tackle the problem of tactile metal dome placement in production situations. Prior to this time, the placement of metal domes to a substrate was performed by hand, which was time consuming and labor intensive. Using either tweezers or a vacuum pen to pick up a dome from a tray, a factory worker placed the dome into a pocket on the substrate.