The DT-Series (patent pending) tactile domes are unique in that IntelliTac™ technology allows for two separate, progressive contact closures in a single dome switch. The first contact closure is accomplished when light pressure is applied to the switch. Additional pressure snaps the dome, making the second contact closure while giving the user the tactile sensation synonymous with traditional metal dome switches.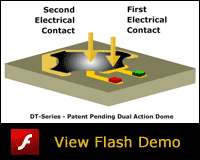 DT-Series domes are available in 6mm, 8.5mm, 10mm and 12mm sizes. Additional DT-Series domes can be created using any of the F-Series sizes and forces.
Custom DT-Series domes can also be used as a normally closed switch (push to break). In this instance, the short leg is applied to the contact pad which closes the circuit. When force is applied to the center of the dome the short leg releases opening the closed circuit. Contact Snaptron for more information about DT-Series domes.
Contact Snaptron for pricing, to order, or to request samples of DT-Series domes.
NOTE: DT series domes are designed to make (2) independent switch closures. The first electrical make may or may not maintain contact through second electrical make. If an application requires the first contact to maintain closure when the second contact is made, please contact Snaptron sales for custom dome options.
PCB Pads
Part Numbers
| | | | | | | | |
| --- | --- | --- | --- | --- | --- | --- | --- |
| DT06180N | 6mm (0.236") | 0.36mm (0.014" ) | 180g | No | Up to 5,000,000 | Specs | Add to List |
| DT07260N | 7.0mm (0.276") | 1.88mm (0.074") | 200g | No | up to 5,000,000 | Specs | Add to List |
| DT08320N | 8.5mm (0.335") | 0.56mm (0.022" ) | 320g | No | Up to 5,000,000 | Specs | Add to List |
| DT10340N | 10mm (0.394") | 0.58mm (0.023" ) | 340g | No | Up to 5,000,000 | Specs | Add to List |
| DT12340N | 12mm (0.472") | 0.71mm (0.028" ) | 340g | No | Up to 5,000,000 | Specs | Add to List |
| DT12450N | 12mm (0.472") | 0.76mm (0.030" ) | 450g | No | Up to 5,000,000 | Specs | Add to List |
| DTBL12340N | 11.81mm (0.465") | 0.71mm (0.028" ) | 340g | No | Up to 5,000,000 | Specs | Add to List |
| DTBL12450N | 11.89mm (0.468") | 0.66mm (0.026" ) | 450g | No | Up to 5,000,000 | Specs | Add to List |